Due to the official holiday of Veliko Tarnovo (22 March), there are higher than normal visits from tourists and the accommodation places are being reserved a lot earlier than normal. Please make sure you book accommodation as soon as possible.
Special offers for Three hills cup 2020
Hotel Lesoparka
Bed & Breakfast –  14 euro per person per night
Bed (Breakfast + dinner) – 18 euro per person per night
For reservations: 088 512 1239
Hotel Manastira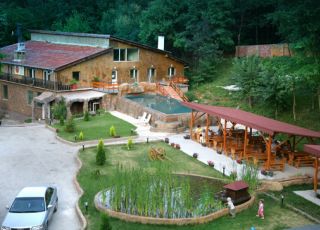 Bed & Breakfast –  12 euro per person per night
For reservations:
manastira_l@abv.bg
088 512 1239
—
Tourism Training Centre "Momina Krepost" – See some basic information here
Half-board /accommodation + dinner and breakfast/:
– in rooms with 2 or 3 beds – 19 euro per person; – 125 places
Bed and Breakfast:
– in rooms with 2 or 3 beds – 14 euro per person – 125 places
All the above prices are per person, per day and include 9% VAT and insurance.
Reservation: It is necessary for competitors to reserve their accommodation (see the contact email below) and to specify the type of accommodation and to give their contacts (phone number) for feedback.
The accommodation reservation will be accepted after a payment of 50% of the total amount confirmed until 8 March 2019.
The deposits have to be transferred to:
Tourist Ltd
UniCredit Bulbank Veliko Tarnovo
IBAN: BG25UNCR96601084965212
BIC: UNCRBGSF
The remaining amount of the payment will be made upon arrival in Tourist center Momina krepost.
If you need an invoice, please send the following information along with the deposit:
– for a physical person – Names, Address and Personal Identification Number.
– for company or organization: Company name, address, Company ID number, Responsible person.
Contact details:  phone: +359 62 63 58 23
GSM: +359896697832 – Silvia Dimitrova; GSM: +359896757049 – Julieta Simeonova;
e-mail: trapezitca_1902@abv.bg; website: trapezitca1902.com